Boat Storage
---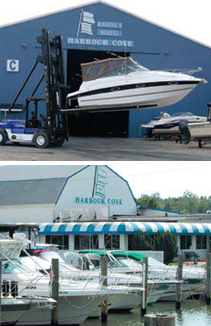 Harbour Cove has both Wet Slips and Dry Storage. 64 wet slips, 150+ covered dry stack boat storage racks, and 2 acres of dry storage. In addition, we have two 22,000 plus forklifts and a 30,000 lbs. Travel Lift. Slip fees include on-the-hard blocked winter storage.
Slips – Our wet slips can hold boats up to 34' with a max. beam of 12'5. Low tide has an avg. depth of 4ft in all Slips. All piers have electric through B.G.E and include freshwater.
Covered Racks – We also have 2 Covered Rack buildings for Dry Storage. ¾ enclosed rack keeps the sun and elements off your boat even during the worst weather. Safe and Secure.
Boatel Storage – Harbour Cove has a Full Size Boatel that holds over 90 boats. Completely enclosed and out of the weather. Very popular dry storage, great for fishing boats (center console, Walk arounds). Holds boat up to 29'.
Outdoor Racks – Safe and Convenient outdoor rack storage. 24-hour Datawatch security keeps your boat safe from theft. Padded Bunks with water and electricity. Holds boats up to lift capacity (30,000 lbs)
**All in/out storage includes unlimited "splashes" and 24-hour access to Marina/Amenities**