Amenities
---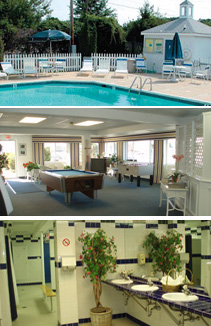 Harbour Cove Marina is not just a place to keep your boat; it is a true weekend home for you, your family and friends. From the barbeque and picnic area and swimming pool, to the spring and fall fishing tournaments.
Within walking distance from the marina you will find tennis courts, restaurants, a coffee shop, and numerous retail stores.
Harbour Cove Marina has 64 wet slips, 150+ covered dry stack boat storage racks, and 2 acres of dry storage. In addition, we have two 22,000 lbs. Fork Lifts and a 30,000 lbs. Travel Lift. Slip fees include on-the-hard blocked winter storage.
Harbour Cove also has a beautiful club house that is filled with activities for you and your family. Whether you enjoy ping-pong, playing pool, watching TV, playing foosball or just listening to music, we offer it all. We have the cleanest restrooms in the industry that include showers, lockers and toiletries.
Harbour Cove is gated and monitored by state-of-the-art security which allows our customers 24/7 access to their marina. We have fish cleaning stations for our fisherman, as well as wireless internet for those of you that work from your boats. We offer a laundry facility as well as Mid-Grade fuel and pump-out service.
Please note: Due to a clearance of 14'6" bridge, Harbour Cove cannot accept sailboats, or vessels larger than 40'.